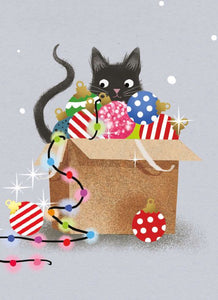 The fantastic set of 8 cards features humorous Artwork. An adorable (perhaps relatable) artwork by Jenny Wren. Festive Feline captures a sweet black cat's fascination with the Christmas decorations. Let's hope they stay away once the baubles are on the tree (please, at least 5 minutes). Inside Reads: Merry Christmas and a Happy New Year.
Dimensions: 130 x 178 mm.
The multipack is completely plastic-free, Made in the UK and fully recyclable.