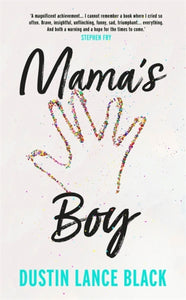 His mother, Anne, was raised in rural Louisiana, and contracted polio when she was two years old. She endured brutal surgeries, as well as braces and crutches for life, and was told that she would never have children or a family. Willfully defying expectations, she found salvation in an unlikely faith, raised three sons, and escaped the abuse and violence of two questionably devised Mormon marriages before finding love and an improbable career in the U.S.

When Lance came out to his mother at twenty-one, he was already studying the arts instead of going on his Mormon mission. She derided his sexuality as a sinful choice and was terrified for his future.

Mama's Boy explores what it took to remain a family despite such division-a journey that stretched from the steps of the U.S. Supreme Court to the woodsheds of East Texas. In the end, the rifts that have split a nation couldn't end this relationship that defined and inspired their remarkable lives.

Mama's Boy is their story. It's a story of the noble quest for a plane higher than politics - one of family, foundations, turmoil, tragedy, elation, and love. It is a story needed now more than ever.

Her oil lit my lamp, and eventually mine lit hers. The tools I'd learned to wield growing up in her conservative, Christian, southern, military home were the same I'd used to wage battles that had taken me from a broken-down welfare apartment where gunfire sang me to sleep, to the biggest stages in the world, and to the front row of the United States Supreme Court to fight for LGBTQ equality.'
Hardback.
Publisher: John Murray Press
ISBN: 9781473665446