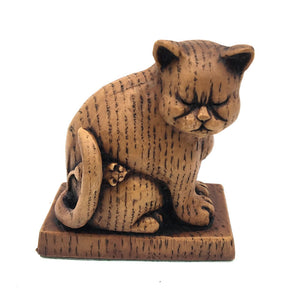 All churches and Cathedrals have mice but not all the Vicars and Vergers like them as much as we do, and so the Church Cat was brought in to catch them. However apart from the odd stray here and there, this cat does not catch many, in fact he's good friends with most of them. The Vicar of the church is not too happy with this cat's performance as a mouse catcher and as you can see this is a sad and grumpy looking cat with not too much to be pleased about living in the church. He's hoping for better things in life and a new home away from the Church, he prays for your help.
Could you be his saviour and new keeper?
Size – Approximately 3″ (inches).