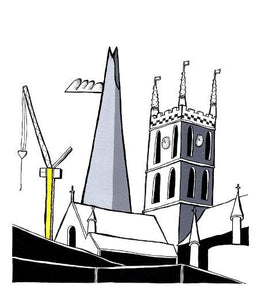 A contemporary view of Southwark Cathedral and the Shard by local artist Euan Cunningham.
'A typically wonderful London view in so many ways.  The beautiful historical Southwark Cathedral next to a modern, thrusting structure in the shape of the angular, jagged Shard and a crane, plying it's trade, hinting at another new piece of architecture".
This print comes mounted and is unframed.
Size: A4 with mount