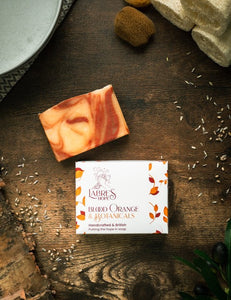 Blood Orange and Botanicals is a White Kaolin and Red French Clay swirled soap infused with three pure essential oils to give you an uplifting, citrus scent- Blood Orange, Litsea Cubeba, and Patchouli.
Using two Natural colourants in our soap - White Kaolin and Red French Clay. White Kaolin is a gentle exfoliator which helps reveal new and refreshed skin. Red French Clay is known for detoxifying the skin, leaving you feeling refreshed, toned and rejuvenated.
These handmade soaps also contain all of their natural glycerine made during the production process which will help moisture from your wash routine be effectively absorbed in to the deepest layers of your skin.
All bars are; vegan, 100% biodegradable, including the packaging, we do not use any palm oil, and no animals are harmed during our production processes.