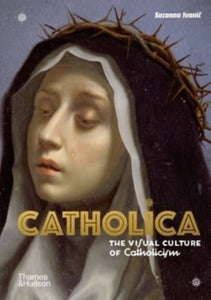 A clear, concise and detailed analysis of the eclectic and beautiful visual and material culture of Catholicism. Focusing on a carefully curated selection of Catholic art and artefacts, this book explains the meaning of the iconography and the mystic power of the faith's ritual objects. A wealth of often hidden symbols are identified and examined close up, building into a catalogue of key visual symbols for readers to use to interpret all Catholic visual and material culture.

The book is organized into three parts - Tenet, Locus and Spiritus - each containing three themed chapters. The first part introduces the centrepieces of the faith, explaining the symbolism in the artistic representation of the holy family, apostles and saints, and in stories from scripture. The second part examines places of worship, identifying the constituent parts of the cathedral and presenting evocative images of roadside shrines.

The third part explores celebrations and traditions, including personal devotional tools and jewelry. For each of the nine themed chapters, illustrated introductory text is followed by a spread-by-spread presentation of the key figures, the key stories and the key iconography relevant to each theme. Paintings and artefacts are examined in detail, identifying and explaining the symbolism and the stories depicted in each.

As the book progresses, readers will build up knowledge of the entire Catholic visual code - the symbols that define Catholic practice, the attributes of the saints, the parts of the cathedral - allowing them to interpret Catholic imagery and objects wherever they find them and to understand the tenets, sites and rituals of the faith.
Hardback.
Publisher: Thames & Hudson
ISBN: 9780500252543