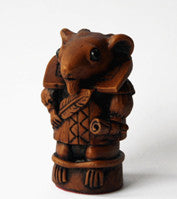 Meet the Bard Himself Mr William Shakespeare.
The church mouse is now getting well above his station! Getting dressed up and running free in the Cathedral is one thing but now pretending to be one of the world's most respected poets and academics is another thing altogether. Well he has quill in one hand and a scroll in the other, dressed in suitable attire he definitely looks the part.
However he's still a mouse and  always been hard done too living within the church and hoping for better things in life and a new home away from the Cathedral, he prays for your help. Could you be his saviour and new keeper?
Size – Approximately 3″ (inches)