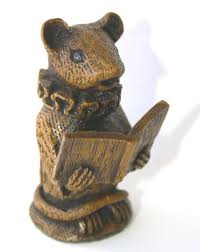 Choir Mouse stands with his hands holding a Hymn book as he sings gracefully at the top of his little voice hoping to raise a few pennies.
Its a hard life living in the choir stalls of the Cathedral and he needs all the help he can get. Could you be his saviour and new keeper and give this little mouse the help and love in a new home that he deserves?

Size – Approximately 3 inches tall.