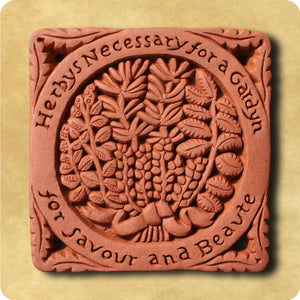 Marjoram was one of the strewing herbs used to give our ancestors' houses a clean and pleasant smell. Rosemary has always been widely used to give a piquant tang to all sorts of meat dishes. Thyme was, and still is, a basic herb used to flavour forcemeats and stuffings. Mint, both fresh and dried, has always provided flavour to many dishes, both sweet and savoury. Tied together with a formal ribbon, the four different herbs on this wall plaque are based on various engravings from 16th century Herbals. Together, they form a posy of herbys round which is engraved "Herbys Necessary for a Garden for Savour and Beaute".
The words form the title of a book written by Thomas Fromon and published in 1535, which included thirty species of herbs essential for a garden. This decorative plaque is an ideal addition to any kitchen or herb garden.
Can be used indoors or outside and holes in the corners of the tile to use as fixing points.
Dimensions: 8.7cm x 10.5cm