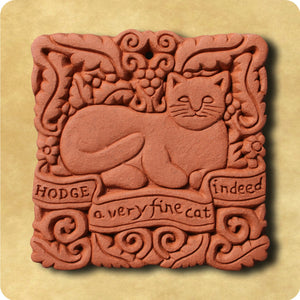 In the summer of 2020 Hodge who had a horrible facial disfigurement was taken in from the streets by London based cat sanctuary Catcuddles. After months of treatment he was gifted to Southwark Cathedral in October 2020 on the feast of St Nicholas after the much-loved Cathedral cat Doorkins Magnificat passed away. 
Hodge is full of character and enjoys lots of cuddles and attention and is a popular member of the Cathedral who is much loved by the staff, congregation and visitors.
Hodge is indeed a very fine cat!
Can be used indoors or outside and holes in the corners of the tile to use as fixing points.
Dimensions: 8.7cm x 10.5cm