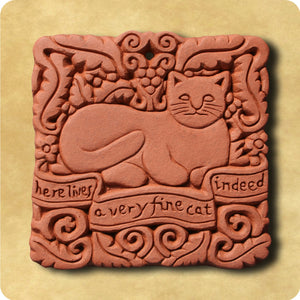 Samuel Johnson (1709-84), compiler of the first English Dictionary, was not only a writer and critic, but also a renowned and witty conversationalist. Dr Johnson – as he is always known – was devoted to his cat Hodge who lived with him at 17 Gough Square, London. Referring to Hodge, Dr Johnson is reputed to have said "...but he is a very fine cat indeed..."
This tile has been adapted so the phrase reads 'Here lives a very fine cat indeed' so that fine cats everywhere can be acknowledged. On this decorative wall plaque, an especially fine and splendid cat is shown on an especially ornate baroque backing.
What better present for a cat lover?
Can be used indoors or outside and has fixing has holes in the corners of the tile to use as fixing points.
Dimensions: 10cm x 10cm