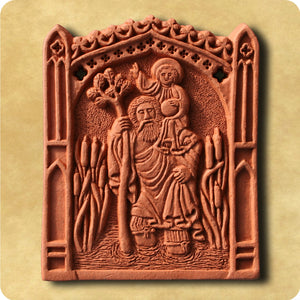 This design of St Christopher carrying Christ on his shoulder is based on a rare 14th century statue found at Norton Priory Museum.
At 12 feet high it is the largest surviving medieval statue of the saint in Britain. The name Christopher means 'Christ-bearer'. The saint's popularity derived from a story in which a giant named Christopher helped travellers across a dangerous river. He is known as the patron saint of travellers.
Can be used indoors or outside and holes in the corners of the tile to use as fixing points.
Dimensions: 8.7cm x 10.5cm