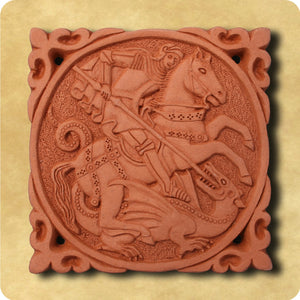 This design is based on the decorative motif found in Southwark Cathedral.
Unveiled and dedicated in 1922, it is associated with the parish war memorial designed by Sir Ninian Comper, one of the last great Gothic revival architects.
This motif is found throughout Europe in paintings, tiles and sculpture and is a symbol of good overcoming evil. The earliest known references of St. George date back to the 6th century, but the first known 'iconographical' depiction is found in Georgia during the 12th century.
Can be used indoors or outside and holes in the corners of the tile to use as fixing points.
 Dimensions: 9.8m x 9.8cm