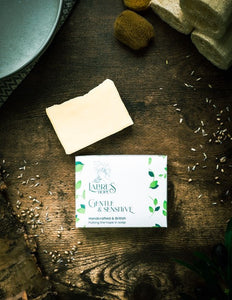 Gentle and Sensitive is designed for those who are allergic to the ingredients naturally present in scents or fragrances. This bar is made up of a soap recipe which combines plant oils such as Avocado, Castor, Coconut, Cocoa and Shea to culminate in to a deeply hydrating bar of soap that is suitable for every skin type. Gentle and Sensitive will provide you with a soft cleansing experience that will leave your skin feeling supple and smooth.
These handmade soaps also contain all of their natural glycerine made during the production process which will help moisture from your wash routine be effectively absorbed in to the deepest layers of your skin.
All bars are; vegan, 100% biodegradable, including the packaging, we do not use any palm oil, and no animals are harmed during our production processes.