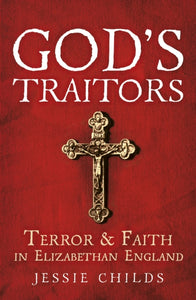 This book was awarded as a Guardian Best Book of the Year 2014. It is longlisted for the Samuel Johnson Prize for Non-Fiction. The Catholics of Elizabethan England did not witness a golden age.

Their Mass was banned, their priests were outlawed, their faith was criminalised. In an age of assassination and Armada, those Catholics who clung to their faith were increasingly seen as the enemy within. In this superb history, award-winning author Jessie Childs explores the Catholic predicament in Elizabethan England through the eyes of one remarkable family: the Vauxes of Harrowden Hall.

God's Traitors is a tale of dawn raids and daring escapes, stately homes and torture chambers, ciphers, secrets and lies. From clandestine chapels and side-street inns to exile communities and the corridors of power, it exposes the tensions and insecurities masked by the cult of Gloriana. Above all, it is a timely story of courage and frailty, repression and reaction and the terrible consequences when religion and politics collide.
Paperback.
Publisher: Vintage Publishing 
ISBN: 9781847921567