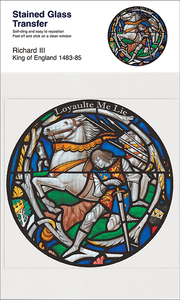 Richard III (1452-1485) was the last king of House of York and the last king of the Plantagenet dynasty.  He was killed at the battle of Bosworth Field in 1485.  Richard III famous motto was: 'Loyaulte me lie - Loyalty binds me'. 

Human remains discovered beneath in the car park in Leicester in 2012 were confirmed by scientists to be of the King Richard III himself.
The window is situated in the south aisle and consists of three panels; the left one shows characters from Shakespeare's tragedies, the right one from his comedies and the central panel shows Prospero and Ariel from The Tempest.
The stained glass was designed by Christopher Webb in 1954 replacing an earlier window which was destroyed during WWII.
Stained Glass Transfer is a translucent, self-cling print presented on a clear PVC panel, wrapped in cellophane bag with an informative label – the perfect gift and colourful memento from a place you visit.