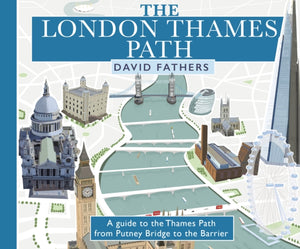 David Fathers presents a unique and richly illustrated guide to the London section of the Thames Path, newly updated to reflect the city's ever-changing landscape. The iconic path, which stretches from the lost floodplains of Richmond all the way to the Thames Barrier, is a panoramic 40-mile walk through 2000 years of London's history. From the old docks and wharves that primed the Industrial Revolution, through the heart of British Government, Monarchy and Church to the City of London that took its very existence from the river.

From the site of the Putney Debates at St Mary's Church to Wren's mighty baroque cathedral of St Paul's. From the great Victorian engineering works of Sir Joseph Bazalgette and his attempts to clean up a polluted London and the river to the Thames Barrier seeking to protect huge parts of London from rising sea levels. From London Bridge, site of the oldest crossing point, to the Millennium Bridge, the Thames' newest crossing.

This book explains the panorama we see today, what came before and how the changes came about. Each double page shows the distance covered so you can plan your own tour of the river.
Paperback.
Publisher: Frances Lincoln Publishers Ltd
ISBN: 9780711276260