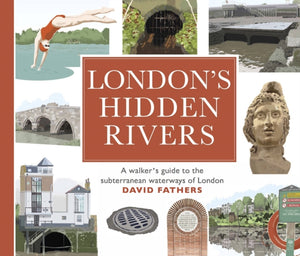 London has many rivers, but they are often hidden under centuries of development. Rivers like the Walbrook, the Fleet or the Westbourne have left their mark on the city, and still form an important part of our subterranean world.
David Fathers traces the course of twelve hidden rivers in a series of detailed guided walks, illustrating the traces they have left and showing the ways they have shaped the city. Each walk starts at the tube or rail station nearest to the source of the river, and then follows it down to the Thames through parkland, suburbia, historic neighbourhoods and the vestiges of our industrial past. Along the way there are encounters with such extraordinary Londoners as William Blake, Judy Garland, Paul Robeson, Terence Donovan, Bradley Wiggins, Nelson, Lenin, Freud, and the great Victorian engineer Joseph Bazalgette.
'London's Hidden Rivers' contains over 120 km of walks, both north and south of the Thames. Winding through the hills, valleys and marshes that underlie the city, every page is a revelation.
Paperback.
Publisher: Frances Lincoln
ISBN: 9780711235540