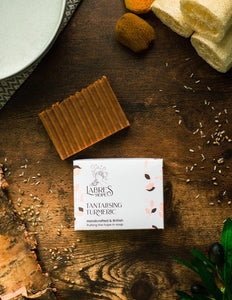 Tantalising Turmeric is a turmeric emboldened; speckled ridge-cut soap infused with two pure essential oils to give you an earthy citrus scent- Patchouli, and Bergamot FCF.
The turmeric powder in this bar is an anti-oxidant and is packed with vitamin E. This will protect your skin from the natural elements, such as the sun, the cold and polluted air.
These handmade soaps also contain all of their natural glycerine made during the production process which will help moisture from your wash routine be effectively absorbed in to the deepest layers of your skin.
All bars are; vegan, 100% biodegradable, including the packaging, we do not use any palm oil, and no animals are harmed during our production processes.