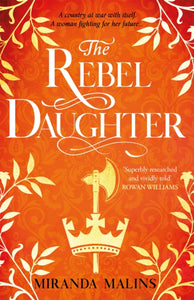 'Superbly researched and vividly told' Rowan Williams, former Archbishop of Canterbury'Affecting, action-packed' Carolyn Kirby'This is neither men's history nor women's history. It is good, gripping history, sharply and immediately told... A real treat' Aspects of HistoryA country torn apart by war.

A woman fighting for her future... Ely, 1643. England is convulsed by Civil War, setting King against Parliament and neighbour against neighbour.

As the turmoil reaches her family home in Ely, 19-year-old Bridget Cromwell finds herself at the heart of the conflict. With her father's star on the rise as a cavalry commander for the rebellious Parliament, Bridget has her own ambitions for a life beyond marriage and motherhood. And as fractures appear in her own family with the wilful, beautiful younger sister Betty, Bridget faces a choice: to follow her heart, or to marry for power and influence, and fight for a revolution that will change history...

A gripping evocation of the Civil War, and the hidden stories of women at the heart of power... Perfect for fans of Philippa Gregory and Anne O'Brien***Praise for The Rebel Daughter 'A dramatic story of love, loss and duty, set against the backdrop of the turmoil of the Civil Wars' Linda Porter'Miranda Malins is a real and fresh new talent. This is beautifully written, exciting fiction.' Suzannah Lipscomb'Such familiar historical characters brought so colourfully and convincingly to new life; and the writing itself is of the finest' Ronald Hutton'This affecting, action-packed novel brings a momentous but often overlooked period of history vividly to life' Carolyn Kirby'Brilliantly captures ...

a nuanced picture of a divided world' Leonora Nattrass'Utterly convincing' S.G. Maclean'Beautifully articulated ... a joy to read!' Michael ScottPraise for The Puritan Princess'There is much to enjoy in this evocation of a family whose lives are so upended by the convulsions of history' Antonia Senior, The Times'Totally gripping...

grab it now. There's a new Cromwell on the shelves!' Minoo Dinshaw, author of Outlandish Knight'The Puritan Princess is a genuinely moving portrait of the tragedy of the Cromwells at the height of their power, and Miranda Malins handles the tumultuous drama of the last days of the Protectorate with incredible aplomb' S G MacLean, author of the Damian Seeker series'A beautifully written and captivating true story of personal love and loss enacted against the backdrop of an England dominated by Frances' father, Oliver Cromwell. Deeply knowledgeable about the politics and desires and ideals of the time, Malins nevertheless inhabits her characters and brings them convincingly to life' James Evans, author of EMIGRANTS'The extraordinary, revealing and moving relationship between Oliver Cromwell and his daughter Frances is brought to vivid life in this masterly historical novel' Paul Lay, author of Providence Lost'Miranda Malins is a real and fresh new talent.

This is beautifully written, exciting fiction from a writer in full command of the history' Suzannah Lipscomb'This engaging novel brings one of the most momentous but least well known periods of English history vividly to life.' Carolyn Kirby, author of THE CONVICTION OF CORA BURNS
Paperback.
Publisher: Orion Publishing Co
ISBN: 9781409194866